Play a Day... A Week... A Lifetime!
Find your new favorite golf partner in Boonville, New York. Woodgate Pines Golf Club boasts 18 holes of scenic golf, a full service golf shop with a PGA Professional on site, and the comfort of a cozy bar and grill. It is a rich blend of Adirondack charm and hospitality, exceptional conditioning, and natural beauty with an unparalleled price value.
Nestled quaintly amidst the confines of the Adirondack Mountains and the Tug Hill Plateau, Woodgate Pines lies in the basin of the Black River and sits within a short drive from the Adirondacks, Tug Hill, and the Mohawk Valley. This public golf course welcomes everyone, so make us your next golf experience.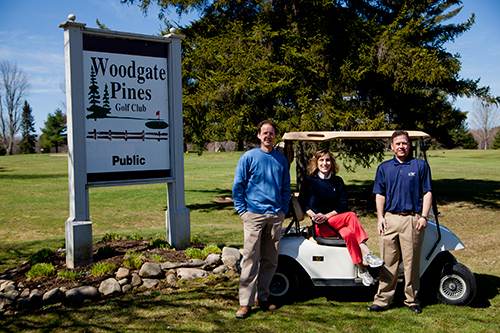 Latest News
Our take on Covid 19: Serious?—-Yup. Confusing?—Yup. Stressful?—Yup, big time. Do we all need to be socially responsible—- Yup. Forever?—Nope. Can WPGC open?—-Yup!

Please read from the following link: You can go directly to our Facebook page to read the link (top right corner of our website) if you can't open it here.

https://mailchi.mp/nysga.org/covid19impact?e=67b5cdc65e

COURSE UPDATE: We do not have a definitive answer regarding when we will be allowed to operate under normal operating conditions. Meaning the use of motorized carts and clubhouse etc. We will potentially open the course this coming week for walkers (We'll post a date on our website and Facebook). We will follow CDC and NYS guidelines and recommendations. You will not see, garbage cans, ball washers, water coolers, benches, bulk scorecards and pencils for people to touch, flagsticks will go in but are not to be pulled out for any reason (maybe to weaponize if in an unruly match with your friend), we will be either filling or pulling the cups an inch or so out of the hole as to not allow the ball to go into it. No hi-fives, fist bumping or sharing of equipment. Stay 6' apart and of course, bring sanitizer with you. Recommendations will be posted at the course 1st tee as well. Clubhouse bathrooms will be unavailable, but we have a lot of "woods"! The clubhouse can not open other than for takeout. We will have more info regarding food and beverage at a later time.

MEMBERSHIP: Some of you have already paid your memberships, leases and storage fees. Thank you! If you have not, and are planning to join, THIS WOULD BE A REALLY GREAT TIME TO DO SO. PLEASE? and THANK YOU. Call Shawn (h). 315-942-5466. (C) 315-527-5446. Checks P.O. Box 687, Boonville, 13309. We can arrange payment methods.

LEAGUES: We obviously can't host our April organization meetings. Instead we will coordinate all league planning by phone. Anyone, including all 2019 league participants, should contact Shawn Andrews directly at the number above to confirm your league and league position for 2020. This is my home number so please leave a message if no answer. Do not leave a message on the golf course answering service. My cell number is 315-527-5446, sandrews@pga.com if you would like to email. If you call please leave a good call back number and an email. Please read that last sentence again as it is very important that I have good emails for all league members. Most of our future correspondence will be by email. (We have over 200 league members and it is very difficult to call everyone). We will keep everyone informed regarding leagues, schedules and start dates. We are planning to start night leagues at the end of April, as we do every season. I know this is wishful thinking but we can plan as normal and adapt to a shorter season if needed. In the words of Andy Bailey "if you don't have a plan......you have nothing to deviate from"!

OUTINGS/TOURNAMENTS: At this time, outings and tournaments will remain scheduled as is. Understandably we have had calls from concerned event coordinators regarding events. Please hang in there with us. Worse case scenario we will push our May events to later dates but WE ARE NOT READY TO CONCEDE YET.

Thank you to all who have and will continue to support our beautiful property. We are what we are because of all of you. If you have any questions or concerns do not hesitate to contact Shawn using the contact info above. Stay safe, stay healthy and Keep your distance @ Woodgate Pines! (That's "at" not "from" Woodgate Pines!


Current Specials
GOLF SHOP
Now stocking laser point & shoot rangefinders, scoreband digital stroke counters, signature tumblers, and all natural (chemical free) insect repellent.